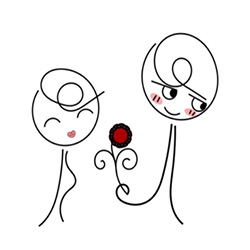 One thing all us boys know is that girls are really, really nice.
One thing all us shy boys know is that girls are also really, really scary!
An oldie but a goodie!  My friend Pam inspired I Like You when she said to me one day: "Michael, you're a very complicated person".  This helped me realise that deep down, like most other shy boys, I'm not at all complicated.  I'm just frightened of girls!
Lyrics
Verse 1
What shall I do?
I been lookin' at you
Thinkin' maybe I might take a chance
Me stomach's all tight
It's been like this all night
Cos I'm dyin' to invite you to dance wiv me … gee …
I'm goin' all hot
'n me tongue's in a knot
Ah … why does it get me this way?
I'm just too reserved
I can't pluck up the nerve
'n I can't think up nothin' to say … only …
Chorus
I like you … I like you
I feel a bit shy but yer've taken me eye
'n it's no good denyin' it's true
I like you … it's hard to explain, I just do
'n if you like me how happy I'd be because
I like you!
Verse 2
Mum always said
"Girls can go to yer head.
Better not let it happen to you!"
Hey, but I'm a grown man now
'n if other blokes can, how come
I can't have lady friends too?
Aw … but it's not just me Mum, see
I know I'm so clumsy
Wiv girls I'm just not in the race
I'd love to come over
'n ask you to dance
But I'm scared that you'd laugh in me face, if I say …
Chorus
I like you … I like you
Epilogue
'scuse me miss
I been lookin' at you
You look really nice
Feel like a dance?
I won't tread on yer toe
Promise!
---
Notes:
Thanks to Jeff Carroll for his wonderful musical arrangement, James Hewgill for his immaculate recording and mixing, Anthony Maydwell for his masterly oversight of the recording session, and to all the musicians who played and sang so beautifully. Without a doubt, one of my most satisfying (and fun) studio projects.
See also the companion piece to this track: Peaches & Cream
---